Audio can be used in a presentation to set the mood. It adds to the atmosphere of the room and may help your audience understand the presentation better.
You can use music for presentations that feature a certain event. Maybe a birthday surprise or the launch of a new product. Adding sound to PowerPoint is very easy. Please read and follow these instructions to insert music into your presentations with ease.
What Audio File Formats To Use?
Even though .MP3 audio files are more common, PowerPoint works a lot better with .WAV audio files. Some audio functions of PowerPoint may allow .MP3 files but not all of them. That is why it is recommended that you convert your audio files to .WAV before using them in PowerPoint.
You can convert .MP3 files (and other audio files) to .WAV files using Audio.Online-Convert.com
You can also convert .MP3 files to .MP3 format by installing and using the free audio editor Audacity
How To Insert Music in PowerPoint 2013 or PowerPoint 2016 Presentations?
Open the presentation in PowerPoint 2013 or PowerPoint 2016.
First, click INSERT from the Ribbon Toolbar and then click the Audio button, and click Audio on My PC.

Select the audio file and then click Insert to link it in the PowerPoint slide.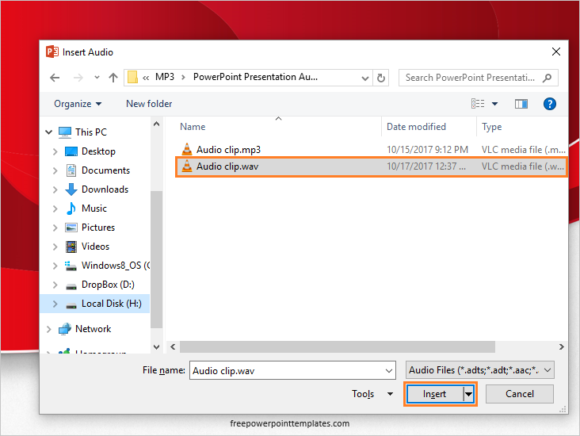 Inserting audio in this way allows you to use a variety of audio file types.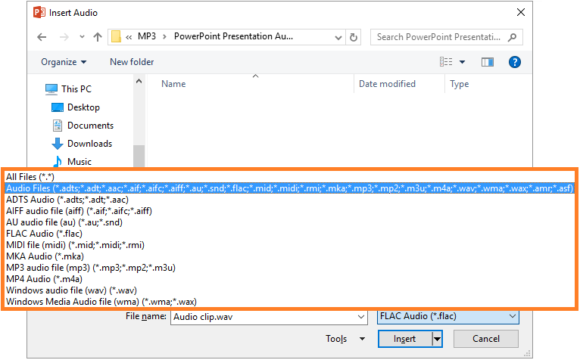 An Audio icon should appear on the slide. You can click and drag to move this icon where ever you want. Hover over the icon and click the play button to hear audio playback.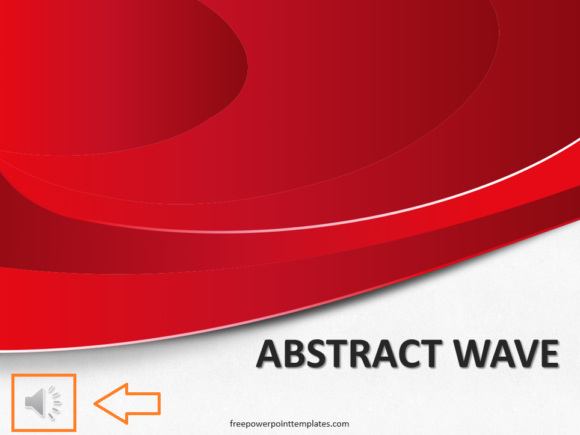 (Please click here to download the PowerPoint Template used in this example)
This is an easy way to insert audio. This will embed audio in the PowerPoint slides which you can then share any way you want.