The Android apps marketplace has reached around 3 million applications as of March 2017. The Google Play store was launched in October 2008. From this rapid growth and the amount of apps, we can see that people are looking for an application to do just about everything. This includes opening PowerPoint apps.
Are There Any Good Apps To Open PowerPoint Presentations?
Yes, there are many good applications that you can use to open, edit, and create PowerPoint presentations. Both in PPT and PPTx formats. Here, we will look at some Android applications that can open PowerPoint presentations.
Why Not Just Use The Official PowerPoint App?
You might be thinking, why do I need to look any further than the official app? You'll be surprised to know the capabilities of some office applications on the Google Play store. These applications can open multiple file types, take less space on your phone's memory, and don't seem that different from the official app in terms of compatibility.
First, we'll look at the official app. And then 2 other Office Applications on the Google Play store.
The Microsoft PowerPoint app is published by Microsoft Corporation. It is the official PowerPoint application on Android and it is Free.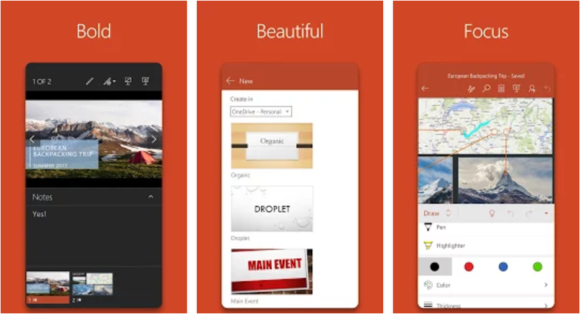 You can expect to be able to open any PowerPoint file on this app. The Presentations should work as intended. This application can be used to create, edit, present, or share PowerPoint presentations.
The WPS Office + PDF application is less than 35MB (as of Sep 2017). It boasts support for multiple office file formats including PowerPoint, Microsoft Word, Microsoft Spreadsheet, Memo, Adobe PDF, and Google Docs.
You can use this application to create, edit and open PowerPoint presentations, Excel spreadsheets, Word Documents, and Memo files.
A full list of compatible filetypes and features can be seen on this application's page by clicking here.
The Polaris Office application is another All-in-One Office Suite Application on Google Play store. Expect it to take almost 50 MB (Sep 2017) on the phone's memory. It is compatible with Microsoft Word, Microsoft Excel, Microsoft PowerPoint, and Adobe PDF file formats.
This application can also create, open, edit, and share all of the standard office file types including PowerPoint presentations. For a full list of file types and features, please click here to visit the application's page on the Google Play store.
Mobile PowerPoint Presentations
Most presentations are not made for mobile devices. However, if you're looking for Mobile PowerPoint Templates, you can download them by clicking here.