If you frequently make PowerPoint presentations which include financial or numerical data, then using linked tables will work best for you. Linking allows you to change data in Excel or PowerPoint and have that information update automatically in the other. It is a very useful feature because it can save a lot of time for many people. Especially people who need to make these presentations frequently.
In this article we will attempt to give you an easy to follow step-by-step procedure for linking a table from Excel to PowerPoint.
What Versions of PowerPoint Support This Feature?
Pretty much any version of PowerPoint from 2003 to the current version has this feature.
How To Link an Excel Table in PowerPoint?
Step 1: The first thing you need to do is find the table to need to link. Make sure to edit the table in the way to want it to look in PowerPoint. Use suitable background color and text formatting. Make appropriate row and column labels that are suitable for reading on a PowerPoint slide.
Step 2: People normally copy and paste a table from Excel to PowerPoint using the keyboard shortcut Ctrl+C and then use Ctrl+V to paste it. If you do this, then you will have simply copied the table without any link to the source.
Instead, highlight and copy the table from Excel using Ctrl+C or the Copy button on the Ribbon Toolbar.
Step 3: Choose a slide in PowerPoint to copy the table. You can use an existing slide or copy the table in a new slide. In PowerPoint 2013, click the Home tab on the ribbon toolbar. Click the Down Arrow below the Paste button as shown in the image. Click Paste Special to see additional paste options.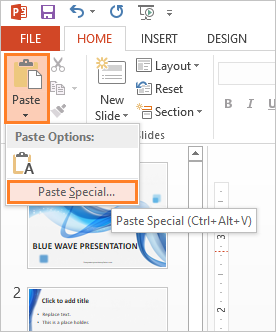 Click the Paste link radio button as shown below. Microsoft Excel 2003 Worksheet Object is selected by Default. Click OK to save changes.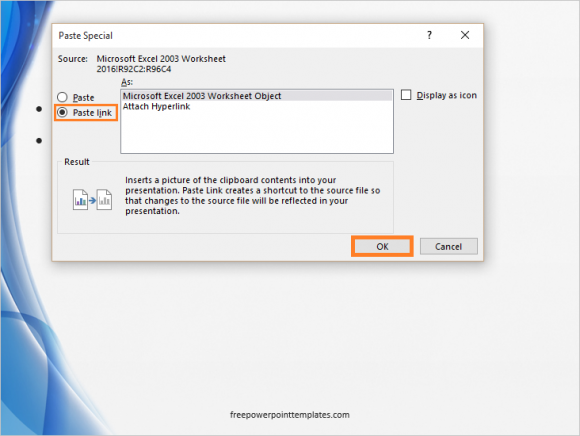 Now, every change made in the source Excel sheet should also appear in the PowerPoint slide.
Image: [Public Domain] via Wikimedia Commons
Image: [Public Domain] via Wikimedia Commons
Image: [Public Domain] via Wikimedia Commons