Imagine yourself about to give an important presentation. You're out of city and you have your presentation with you. Then comes athe moment of truth. You plug your laptop into the projector and open the presentation file only to be welcomed by a blue screen (of death) or PowerPoint crashes due to a corrupt file. Here we will discuss what you can do to avoid this.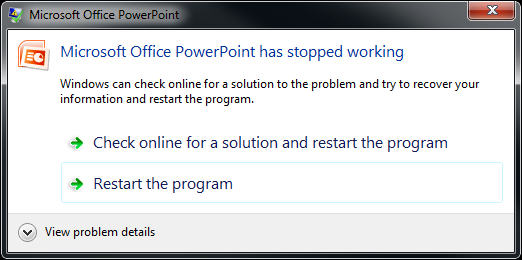 Rehearse With Similar Hardware and Software
Make sure to go through the presentation with the hardware that you plan on using with the computer. You might be using a presenter's remove or portable USB speakers. We suggest rehearsing with these little details because most of the blue screen errors are actually caused by hardware related issues.
Copy Your Presentation To The Computer You're Presenting On
This is a really important step. To avoid problems, run your presentation after copying it on the presentation computer's hard drive. Doing this ensures that the presentation files are all there for the computer to access even if the USB is disconnected from the computer or ejected from Windows.
The PowerPoint File is Corrupt
There are a few reasons why a file might get corrupt. It may have happened when it was copied from or to the USB disk. A virus may have replaced real PowerPoint files with icons that look like those files to hide .exe files, etc. That is why it is always good to keep a backup copy of important files. You can try copying an important folder on the USB twice. You can also choose to keep important files in a folder which is automatically backed up using a cloud backup client software like Dropbox, Box, or OneDrive (comes with Windows 10).
In case of such an emergency, you can just log into your account and download the files from there. You can also email the important file(s) to yourself. You should be able to download the presentation on your smartphone and send it to your computer using Bluetooth or by using a data cable.
The best way to be prepared for corrupt files is to make sure you have multiple copies and that you will be able to access them in a hurry.