Download the preview of PowerPoint 2016 for Mac, ahead of release. Finally, Mac users get access to a modern version of PowerPoint. Scheduled for release ahead of PowerPoint 2016 for PC, it offers similar reliability and tools to its counterpart. Brand new features include a newly designed task pane to format graphical elements. Test the preview by running a free PowerPoint template on it.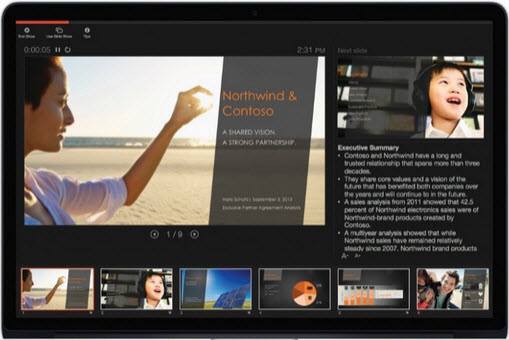 A major addition into the presentation software is the "Presenter View." Simply take control while delivering a presentation with this new view that combines the current slide, elapsed time, and slide notes. As the name suggests, it is only for the presenter, as the audience only sees the current slide. This is a worthwhile addition for those who made use of the speaker notes pane in previous versions of Microsoft PowerPoint. Such tools help remember what to say as you present, and also to get a glimpse of what is to follow.
Other notable features include a new Animation Pane and new a new feature for adding slide transitions. The animation pane is a means of providing illustrations in a faster, more seamless manner. The newly added transitions give a spin to those slides.
Compatibility
The software is compatible with all devices running OS X Yosemite. It means that your iMac, MacBook, MacBook Pro, MacBook Air, Mac Pro, Mac mini or Xserve should run the Yosemite operating system as a prerequisite.
Download PowerPoint 2016 for Mac Preview, which is light years ahead of the 2011 release of the product. Upon downloading the preview, make a feasibility study or a free Business presentation and impress your boss.