Free brochure template has a business theme with an original background. Pass information in the form of a pamphlet or flyer, such as introduction to a new marketing campaign or a product lineup. Great deal of effort is put into the formatting, as to wrap the images around text. The scope of this design is not limited to a business scenario, as it can also be used for an educational purpose, such as an invitation to a seminar or a conference.
This free brochure is compatible with Adobe Illustrator, Microsoft Word Mac and PC, Corel Draw, and Microsoft Publisher. Simple and professional PowerPoint templates are also available, and these can be used for marketing, brainstorming, and management. Greeting cards, brochures, and posters are also free to download.
Browse a comprehensive collection of business themed PowerPoint backgrounds and make a presentation regarding how to make a brochure and outline the key factors in making a brochure. Give a description of format, size, and design ideas.
This business themed brochure consists of two pages, and it is in a foldable format. Write down the title, containing the service or product title. Write a description of the product using two small paragraphs. An image of your product or marketing campaign is inserted at the right hand side. There is space to paste company logo and brochure title as header and footer.
Explain various facets of your new product release or outline the benefits of your service with free brochure template. Intelligent text formatting helps direct the attention to different sections of the brochure. There is a separate section on the right hand side to highlight key features of your service plan. A combination of gray, orange and white freshens up the entire theme and makes a positive impression on the audience.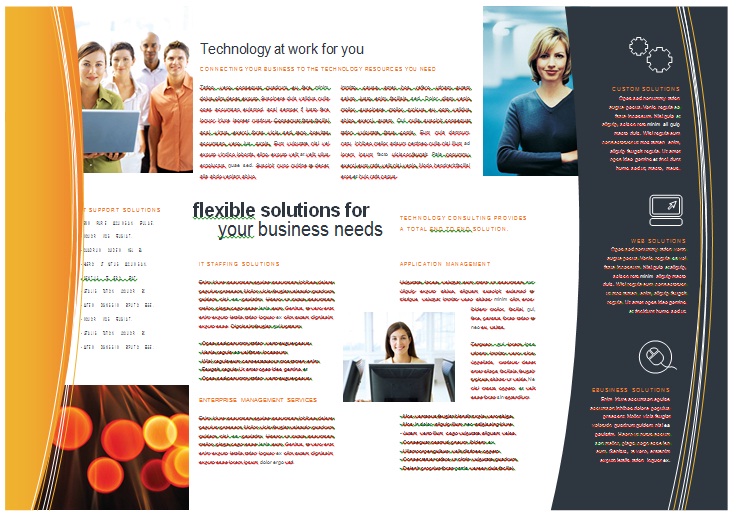 Download Free Brochure template, in addition to business cards, datasheets, and newsletters on stocklayouts.