Business is a system to exchange services and goods for money. Every business has its mission and vision. To achieve their goals, organizations make strategies and they work accordingly. A strategy is a set of rules to achieve a particular goal or the overall goals of the organization. Business students learn about strategies and strategic planning. If you are a business student, an entrepreneur or the founder of a Startup then download this Free Business Strategy PPT Template to recommend a strategy to your team and brainstorm ideas. Scroll down to the bottom of this article where you will find the download link.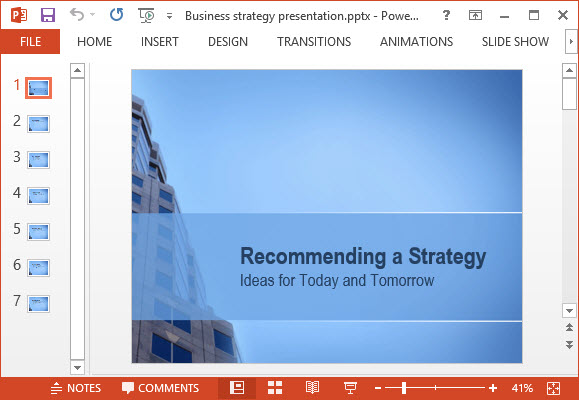 Outline the Vision, Goals and Objectives
The title slide features a blue sky and an office building with a sky blue bar to write text. You may be a part of a startup and have a strategy to achieve goals, so make a professional and effective presentation to convince the stakeholders. Free Business template is a simple slide deck to make a business presentation. It has few sample slides with specially written headers and bulleted-lists. In the next slide, write the vision statement of the startup or the organization to declare its long-term goals. In the next slide, use bullet points to outline the various goals and objectives.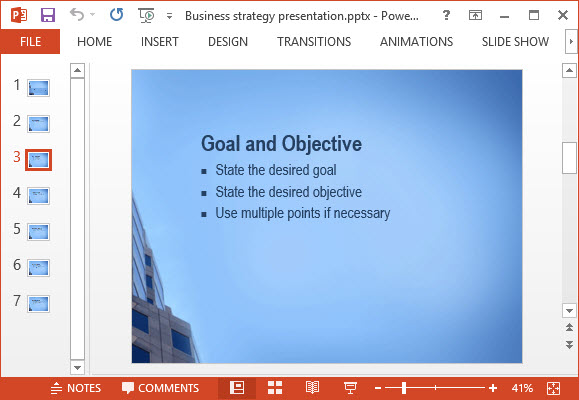 Outline the projects currently in progress and describe how they align with the overall strategy of the Lean Startup. Add graphs and charts to highlight the effectiveness of current projects and the expected results. Next discuss alternate strategies and their pros & cons. You may give recommendations at the back end of the presentation.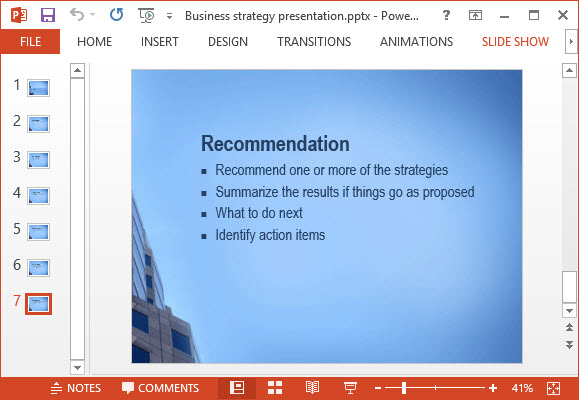 This template is available for download at the official Microsoft office website for templates. It is available for download in .POTX format. It is compatible with Microsoft PowerPoint 2007 and later versions. However, you cannot open it using Office Online.