Make a retro style presentation on devices used to transmit or convey information with the free Communications Design PPT Template. This theme is targeted towards engineers who specialize in fields such as computers, electronics, and telecom. The colorful yet simple orange design makes it a classroom hit for kindergarten and junior high. The download link is available at the bottom of the article. Read-on to find out about the customization options, aspect ratio, and compatibility of this free PowerPoint theme.
A Retro Communications Theme
The master slide of this Science oriented theme has an orange background coupled with a contrasting black rectangular space to write the title and sub-title. Below the text, there are thumbnails of various devices and modes of communication, including email, PC / MAC, satellite, and a phone.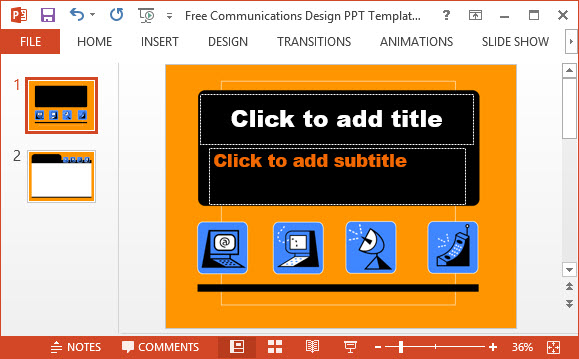 The theme originally comes with a single slide, commonly referred to as the title slide. To make your slide deck, simply create a new slide. The new slide carries on the theme from the title slide. Even the thumbnails of the communication devices appear in the new slide. There is a little rectangular space to write the title and sub-header. Add content in the form of text or insert a Table, a Chart, a SmartArt graphic, an image or a video as per your requirement.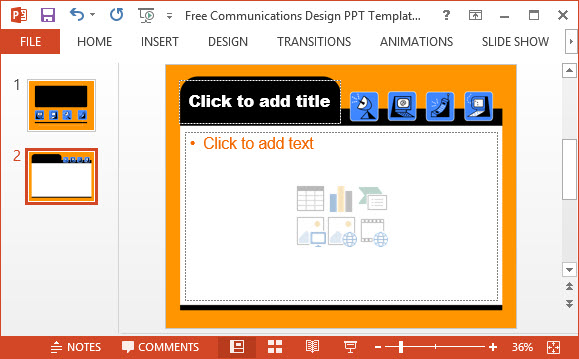 The slides have an aspect ratio of 4:3 or 1.33:1, known as the standard aspect ratio. The slides have a squarish or box-like appearance. Most older projector screens have a 4:3 display. When unsure which aspect ratio to choose, it is better to choose 4:3 over widescreen as a widescreen (16:9) template usually looks tiny on a 4:3 projector.
Download the Free Communications Design PPT Theme from the official Microsoft PowerPoint themes website. It is available in the .POT format, which is compatible with Microsoft PowerPoint 2007 and later versions such as PowerPoint 2016.
Download: Communications Design Slides.