If your supervisor has urgently called a meeting and asked you to present, there is no need to panic. Just use the free Company Meeting PowerPoint template. Keep reading this page for instructions on how to make full use of this meeting presentation. You also get the download link for free. The title slide has a faded sky blue background with multi-colored bands at the top and bottom. The band pattern continues throughout the inner slides of this free PowerPoint theme. The title slide has a placeholder to write the meeting title. It has another placeholder to write the presenter's name. The title slide has enough empty space for you to add the logo of the organization.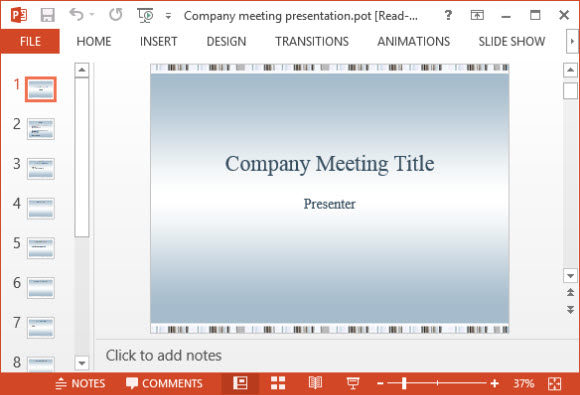 Outline of The Meeting Agenda
Use the next slide to give a brief overview of the presentation. Do not keep the audience guessing, just let them know which points are being covered. In each subsequent slide, discuss a single agenda point. The agenda point number one in the below slide summarizes the organization's success factors. Another agenda point covers the issues faced by the organization and the solutions to overcome those issues.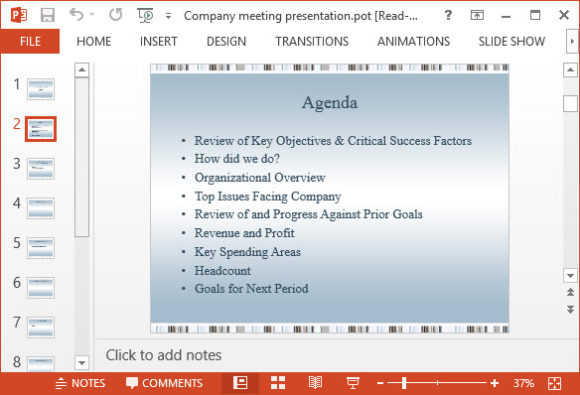 In the remaining slides, discuss the profits and risks, and the performance of the organization against the goals. The last slide gives the summary of the meeting. Add more slides and information to make this free Business PPT presentation effective and understandable for the audience. Use the charts and tables to illustrate financial statements and the cost of the projects being executed. Use graphs to show the performance of the organization against goals and strategies. Change the color, font, and layout of the slides to match your brand. Add images or diagrams to illustrate new plans and projects.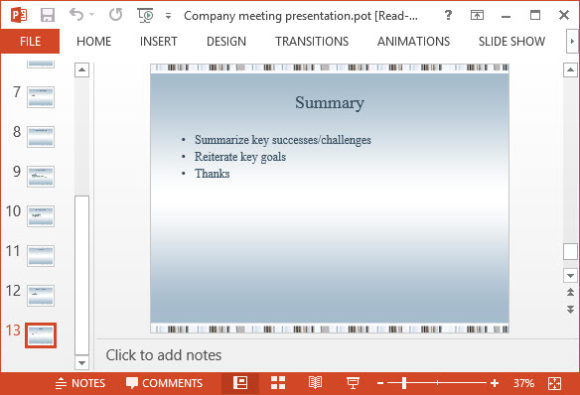 Download the Free Company Meeting PowerPoint Template in .pot format. It is compatible with the latest and previous releases of Microsoft PowerPoint.