Not being able to find a suitable diagram for certain types of data is a common problem. What are the best diagram elements to show a sequence, or a relation between items? What should these diagram elements look like? Here, we will be talking about how you can get pre-made diagrams for your PowerPoint presentations.
How To Select Correct Diagrams
Diagrams approximately visualize actual sequence or arrangement to help explain it in a simpler form. There are different types that specify different relations. Websites that host free diagrams usually have them divided into different categories. Some websites where you can get free diagrams are Durate's Diagrammer and FreePowerPointTemplatesDesign. When you're choosing the diagram, keep in mind that you can have more or fewer nodes on the diagram than those you see on a preview image.
How To Download Correct Diagrams
After you've selected the type of diagram you want, downloading it is usually simple and straightforward. On some websites you may need to pay for the content before downloading it. On others, you may need to sign-up to the website's newsletter before you can download the content.
How To Edit The Diagrams
As long as you get the diagram in a PowerPoint-friendly file format, you should be good to go. Some people will be able to use them as soon as they are downloaded, but most people will probably need to change the color and the size before using them.
Most diagrams come as a set of grouped shapes. So, re-sizing them should not be an issue. When you click the diagram and change its color, you'll notice that you're unable to do so. This is because in order to change the color of the diagram, you need to un-group it first.
Right-click the diagram and click Group, then Ungroup.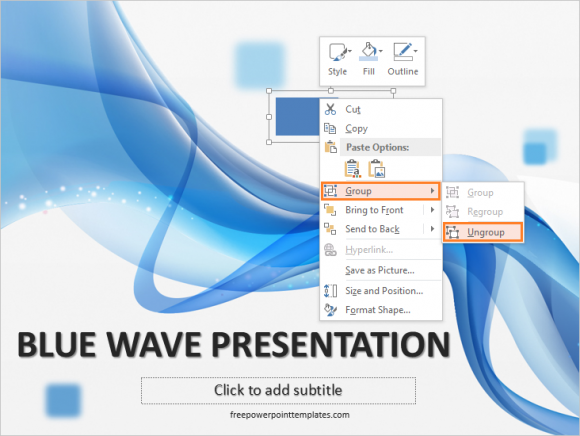 (Click Here to download the PowerPoint template in this example)
This allows you to change color and formatting of individual parts of the diagram. You can Group the diagram again if you want to re-size it later.