A situation that occurs with many people is that PowerPoint closes while you're working. This can happen due to many different reasons. Maybe the electricity went out; maybe the power cord got loose; or maybe Windows crashed. How do you get your unsaved presentation back after something like that happens?
Configuring Autosave to Rescue Your Unsaved Presentation

Autosave is a standard feature in Microsoft PowerPoint. It is configured to automatically save the presentation every 10 minutes by default. This means that every 10 minutes while you're working on the presentation, a copy of it will be saved automatically.
You can change this setting to 2 minutes if you want, the minimum is 1 minute. Doing this will make sure that your work is saved more frequently. This way you don't have to remember using the save command or the save button that much. Here's how you do it:
Click the FILE button

Click Save from the right side > set Save AutoRecover information every 2 minutes (Click the image to Enlarge).

Click OK to save changes
What to do If You Accidentally clicked Don't Save?
Sometimes you may be in a hurry while working on a PowerPoint presentation. When you have an unsaved presentation and you close PowerPoint, you see a dialog asking you to: Save, Don't Save, or Cancel. If you accidentally click Don't Save, then your work will be gone, but it can still be recovered if it was saved by autosave.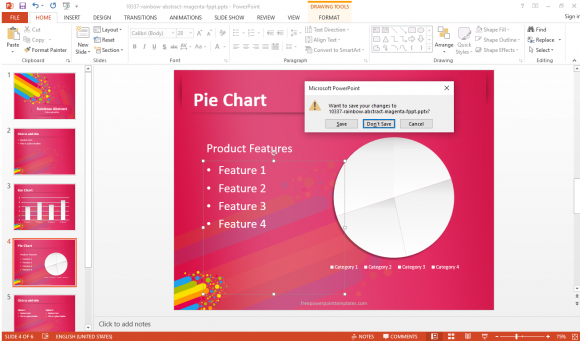 In old versions of PowerPoint, the autosave was discarded if you clicked Don't Save. Luckily, you can retrieve it in PowerPoint 2013.
Click the FILE button

Click Recover Unsaved Presentations > choose a presentation to recover
You may consider copying you PowerPoint presentations to a USB flash drive to keep them safe. If you like the Rainbow Abstract template template used in this tutorial then click this link.