We're living in the era of leaked information. Everyone knows that information gets leaked and ends up on Wikileaks or somewhere else. Once these things do occur, people try to scramble and make embarrassing attempts to hide or discredit whatever information that got leaked. Its better just to make them more secure. Here, we will look at some ways to make your presentations more private.
The PowerPoint Standard
PowerPoint might not be the only software used to make business presentation but it is probably one that is the most widely used. That is why much of the focus of making effective PowerPoint presentations remains with PowerPoint.
Password Protecting PowerPoint 2013 Presentations
Follow these steps to password protect PowerPoint 2013 files.
Click the File button on the upper-left corner of PowerPoint.

Click the Info tab on the left side. Now, click the Protect Presentation button.

Click the button labeled Encrypt with Password from the drop-down menu.

Enter a strong Password that you'll remember. You can also make the password simple. Just make sure not to forget it later and lock ourselves out of the presentation. You can choose a really strong password and app like LastPass to keep the password as well. Click OK after typing the password.

Now, PowerPoint will ask for a password when you try to open the file.

This Password can also be disabled. Just open the file again and try to set the password again. This time leave the password field empty, and click OK to save changes. The file should now open without the need to enter any password.
Remove Speaker Notes and Comments Before Sharing
Many presenters forget that their presentation files have speaker notes and comments embedded in them. Furthermore it can be annoying to look for these things only to find out that they weren't there that time. There is an easy fix for this. All you need to do is to use the Inspect Presentation feature in PowerPoint.
Click File from the Ribbon Toolbar: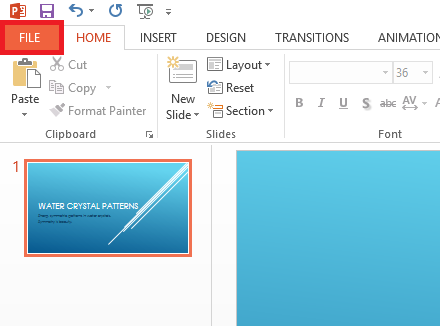 Go to Info and click Check for issues and then Inspect Document. The tool should open and look something like this.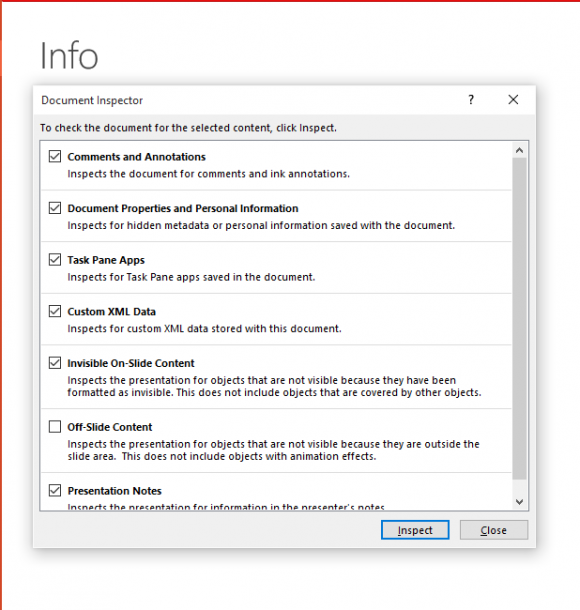 Click Inspect to see what embedded data was included with the PowerPoint file that you were about to share through email with your clients. Precautions like this should help you avoid information leaks by keeping presentations safer and easier to work with.