Maybe you agree with Al Gore's presentations and documentaries and maybe you don't. However, there's no question that his presentation style can teach us a lot about using visuals effectively. Let us look at some of his techniques and learn how to make beautiful and persuasive presentations.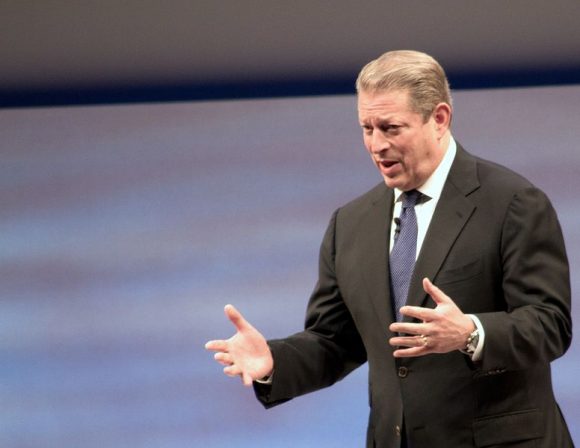 Visuals Are King
Just like the numerous Apple Launch Presentations given by Steve Jobs, you'll notice that these presentations are also dominated by visuals. Most slides have little or no text in them. Instead, there is an abundance of visuals in differing forms e.g. images, photographs, diagrams, charts, graphs, and videos. These visuals also animate on various slides.
The New Standard in Presentations 
Presentations like this and others such as those in most TED Talks are quickly becoming the standard. People's perspective of what makes an acceptable presentation is changing. They expect more quality; use of suitable visuals, and even animation.
Slide To Time Ratio Doesn't Really Matter
One thing that most people don't notice about the Al Gore presentation is the fact that it contains more than 250 slides, 266 to be exact. How is it possible that the presentation doesn't feel rushed at all? It should feel very rushed. Because it breaks the old rule of not using more than one slide per minute.
Use As Many Slides As You Need
The presentation used visuals and had a flow that kept people entertained. Instead of using one slide per minute, use as many slides as needed to get your point across. Don't forget to use visuals in those slides though.
Be Mindful of What The Audience Wants to Hear
Many presenters, especially corporate presenters often lose track of what the audience wants when giving a presentation. Think of how the audience might respond to your content, and work the answers into your presentation. If their questions are being answered, then they'll try to listen more carefully.
Learn To Direct the Audience's Attention 
Al Gore does this many times in his presentation. He would walk up to the screen and physically point at a portion of the slide to direct attention to it. You can do this yourself, or use callouts to direct people's attention to something important on the slide.
Laser Pointers Are Hard To See
Avoid using laser pointers as they are hard to see. They sometimes blend into a color on the slide, and are difficult for people to keep track of on the screen. Use a remote control to change slides as you talk about them. This is a great way to draw the audience's attention to the next slide seamlessly.
Image: [CC BY 2.0] via Wikimedia Commons