What is a computer today without an internet connection? And, why should we not share online when it is fast and more accessible? Sharing PowerPoint presentations on the internet is now easier than ever. On this page, you can read about some of the options you have if you want to share a PowerPoint presentation publicly or with a few people.
Use PowerPoint's Own Share Feature
Most people will probably want to use this option for sharing PowerPoint presentations for its simplicity. This feature is available in PowerPoint 2013 and presently in PowerPoint 2016. All you need to do is to click File on the ribbon menu, and click Share. On the Share menu, you should be able to see further instructions.
In case of PowerPoint 2013, you are supposed to save the presentation in a folder that is a OneDrive folder. Then you'll need to invite people via email.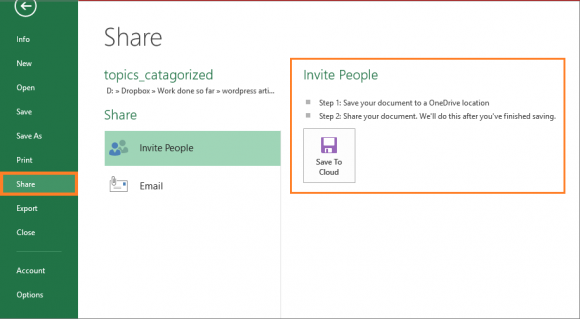 Using Slide Sharing Websites Like SlideShare
These websites allow anyone to upload and display their slides to the public online. You can also embed this presentation on your website or blog. You can add a final slide to each presentation which advertises your website, blog, or social media page's address.
All the formatting and fonts that you may have used in your presentation will be converted and simplified. Change the fonts before uploading if you have used ones that are not common and standard (like Ariel, Time New Roman, Calibri, etc).
Any File Hosting Or File Sharing Service
There are plenty of these services online and some of them even have their own client software which uploads changes in data. This is a good way to keep important work files backed up. Windows 10 already comes with OneDrive, but you can use any service you like.
Note: If you're considering sharing PowerPoint presentations publicly, then be aware that PowerPoint slides can contain a lot of metadata. This may allow someone to access your private information. If you want to share the slides, maybe you'd want to save them as a PDF file first.