There are times when old fashioned solutions don't meet modern demands. Signing a document with pen and paper validates its authenticity. But how would you do that with a digital document? Of course, you would need to use a digital signature.
Did you know that digital signatures are built into PowerPoint and can be used to secure PowerPoint documents? Well, here we'll help you understand what they are and how we can use them.

What Is A Digital Signature?
Digital Signature is a method used to validate the authenticity of a digital document. It can be thought of as the digital equivalent of a signature written by hand or a stamped seal. It is far more secure than a handwritten signature.
Why Use A Digital Signature?
Digital signatures are very fast since they are applied directly to the digital document. A digital signature provides additional information including the origin, identity, and status of the document.
How To Use The Digital Signature Feature in PowerPoint?
In order to use digital signatures in PowerPoint, you will need to make a digital signature if you don't already have one.
Click FILE and then click the Protect Presentation Button. From the options that appear, click Add a Digital Signature as shown in the following image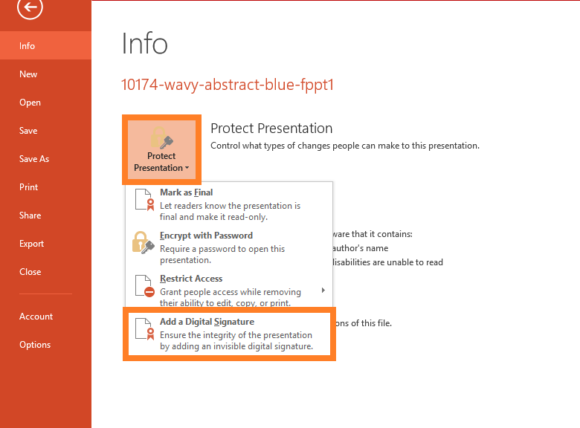 A message (like this one) should pop up to tell you that:
To sign a Microsoft Office Document you need a digital ID, would you like to get one from a Microsoft Partner right now?

Follow the instructions to get your own Digital ID
What Is A Digital ID?
According to Microsoft, a Digital ID helps validate your identity. They can be used to sign documents digitally. Click here to read about Digital Signatures on Microsoft's website. The website also contains information on Microsoft partners who can help you get a new Digital ID to use in digital signatures in PowerPoint.