Video conferencing simply means having a meeting through a video call. This call is usually between a few people. Sometimes a video conference may be limited to a closed group of people. Other times they are open to many people who can watch as a guest, and ask questions at the end of the session. Its really up to the people who organize them.
Advantages of Video Conferencing
Video conferencing omits the need for participants to commute or travel to attend the conference. This saves them a lot of time and money. Video conferencing is very efficient because it allows people to start working on something as soon as the Call/Presentation ends.
Disadvantages of Video Conferencing
As for the disadvantages, there aren't many. Not being in front of the other person can make it a bit difficult to communicate with them effectively. Possible lag, interruptions, and low audio quality can hamper the experience of communicating with the other person. Different time zones is another limiting factor.
Start A Video Conference Using The " Present Online " Feature in PowerPoint
Office 2011 onward contains the video broadcasting feature. This feature allows you to give a PowerPoint presentation to many people at the same time from your preferred location.
In Office 2013's PowerPoint 2013, this feature is called the Present Online feature. You can access it by following these steps.
Open PowerPoint and click the SLIDE SHOW tab. After that, click Present Online as shown below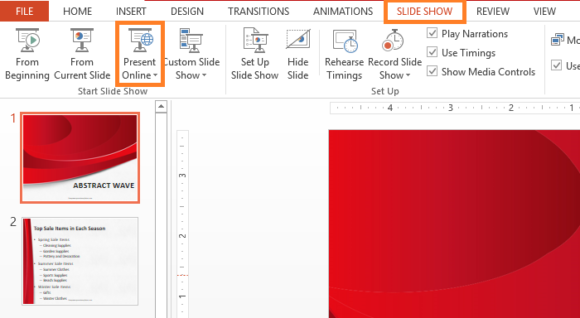 A box should appear with further information. In PowerPoint 2013, it says that The Office Presentation Service is a free service available to anyone who uses Microsoft Office. All you need is a (free) Microsoft account in order to access it.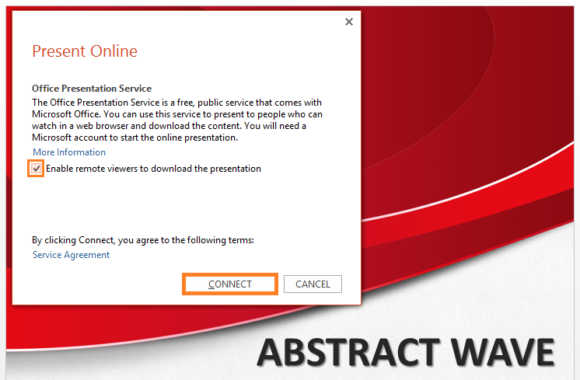 (Please click here to download the Presentation Template used in this example)
As shown in the image, you have the option to enable anyone to download the full presentation when they view it. This can be useful for them if they jump in half way or if they want to keep the presentation as a reference.
Click Connect to continue
You'll be greeted by this screen where you can input your email address or phone number that you use to access your Microsoft account (Skype, Outlook.com, OneDrive, Windows Phone, or Xbox LIVE account).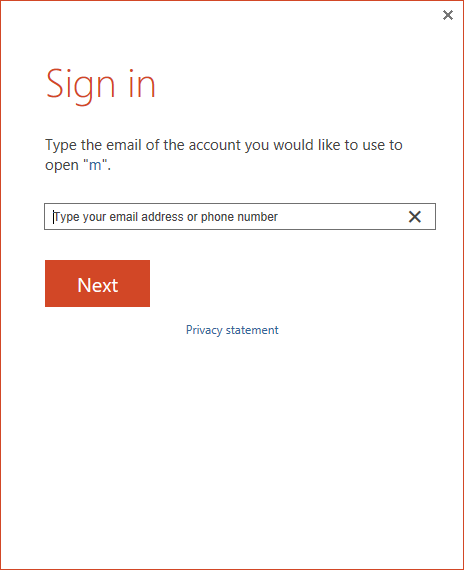 You'll be given a link that you can share with other people who wish to join your presentation. Once you copy the link, save it in a safe place, or simply Email it to yourself using the "Send an Email " link in this screen. After that, click the START PRESENTATION button to continue.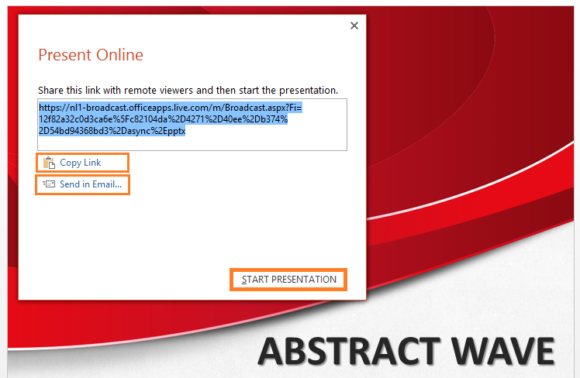 Now, the slide you show in Slide Show mode, it will be visible to all the other viewers on their web browser after they open that link.
There may be some lag, so try to speak a few seconds after changing a slide.
Only The Presentation Can Be Seen Remotely, You Need To Prepare For The Audio Separately
Audio is not supported, so you'll need to have all your viewers on the same conference call/group call using some other software that is most convenient to you.
The best thing about doing things this way is that people get to see your slides very clearly as you do; instead of seeing a blurry image. Which is what would happen if you simply shared your screen and started to give a presentation to people in a normal video conference call.