A vast majority of all PowerPoint presentations include data from Excel sheets. Often, these PowerPoint presentation files are also emailed to prospective clients. People in many organizations use Excel data without realizing an important fact. All the numbers behind the calculations are also embedded in the PowerPoint presentation. This happens when you normally copy it from Excel. Here, we will talk about using the PowerPoint document inspector to find hidden data in PowerPoint slides that, in many cases, can get you in trouble.
How Does This Excel Data Get Into PowerPoint?
When you copy a table or sheet from Excel to PowerPoint, you are also copying the meta data that made these calculations possible. Copying basically embeds the Excel data in PowerPoint. This happens quite often because people commonly use the simple copy and paste method to get data from one place to another. You can risk exposing important data behind the calculations.
How to Know About All the Data Included in the PowerPoint File?
You can use a tool built into PowerPoint called the document inspector tool to tell you what you're sharing with others along with the PowerPoint file. Open PowerPoint and click File on the ribbon toolbar.
Click the Inspect Presentation button in PowerPoint 2013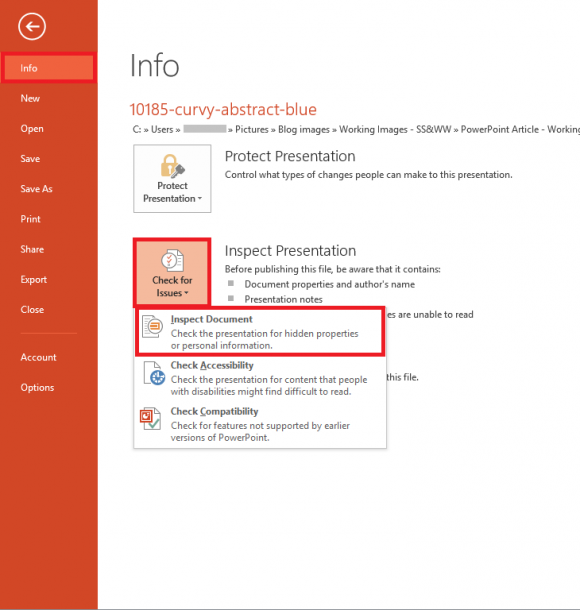 In Office 2010 or 2013, you should be able to find similar options under the Info tab under the File menu.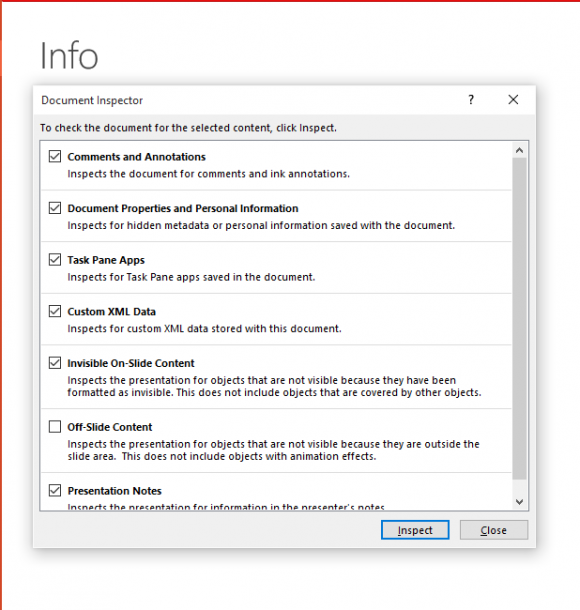 The Document Inspector helps you find and remove data that is intentionally or mistakenly hidden.
How To Fix the Problem of Embedded Data?
Microsoft suggests that you save the picture of the table, and show the picture instead of using the actual table. This can easily be done by capturing an image of the table using the PrtScr key on the keyboard, and then pasting it in PowerPoint. Once pasted, crop the image to only keep the table's picture, and you're good to go.