You may not have heard much about Adobe Presenter. Here, we will help you take a first-look into this software. This article is not intended to sell Adobe Presenter. Rather to introduce curious people to this presentation software.
What is Adobe Presenter?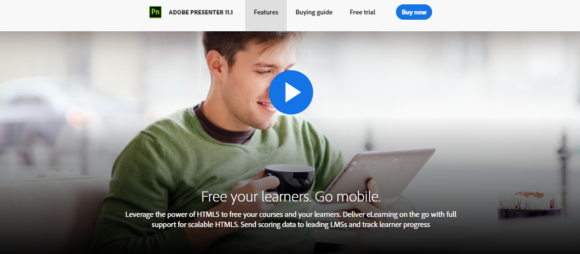 It is Adobe's solution for making presentations in general. But, it is heavily geared toward making interactive eLearning courses and video eLearning courses. It even includes analytics for tracking and reporting data collected from user interaction.
As most other Adobe products, it is available as a monthly subscription or a one-time purchase.
Key Features of Adobe Presenter
Here are some defining key features of Adobe Presenter that distinguish it from other presentation software like PowerPoint.
Adobe Presenter Helps Create Interactive eLearning Courses
You're technically creating PowerPoint presentations. However, they are much more interactive and various types of nice looking quizzes to keep students engaged. The finished product looks like its made with Adobe flash but its actually HTML5. This means that you can put it on a webpage and people can easily view it in their web browser.
It Helps You Make Video Tutorials
It can help you make the kind of video tutorials you commonly find on websites like Udemy and Coursera. These courses are basically a professional looking slide show with a voice over. If you're wondering how to make a MOOC (Massive open online course) of your own, then maybe using Adobe Presenter will be worth you while.
Get Reports of Data Collected From Students
You can gauge the understanding of your students by having them complete quizzes in-between topics of the course. After that, test them on basic points to keep them engaged. You can then get insights by connecting the quiz to an LMS. That way, you can understand you average student's habits and design courses accordingly.
Should You Use It?
Since its from Adobe, you can expect the quality and the high price that comes with their products. But, it will enable you to make amazing things if you're willing to invest some time and money into it.