PowerPoint to PDF conversion is easy when you know how to do it. Here, we'll discuss just that.
What is a PDF?
PDF is a file format for sharing documents. PDF stands for Portable Document Format.
Why Convert PowerPoint Files to PDF?
The main benefit of using the PDF file format is that PDF files can be viewed the same way on different displays. Changes in operating system, screen size, hardware, software, etc do not effect how a PDF file looks on the screen.
PDF files are not just for static documents. They can also contain buttons, form fields, audio, and video.
How To Convert PowerPoint Files to PDF using PowerPoint?
Open PowerPoint and open the file that you want to convert to PDF.
Click File to open a menu containing save options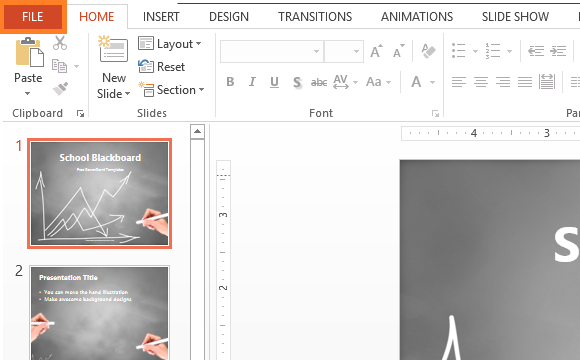 Click Save As from the left hand menu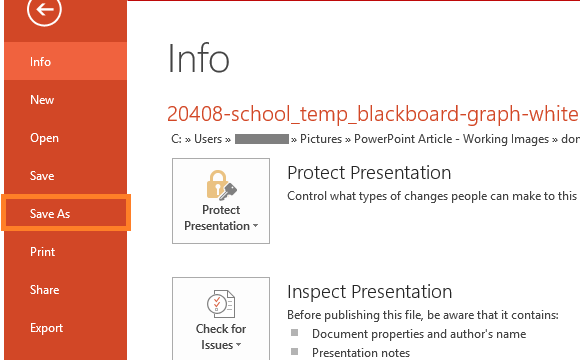 Click Browse to choose a save location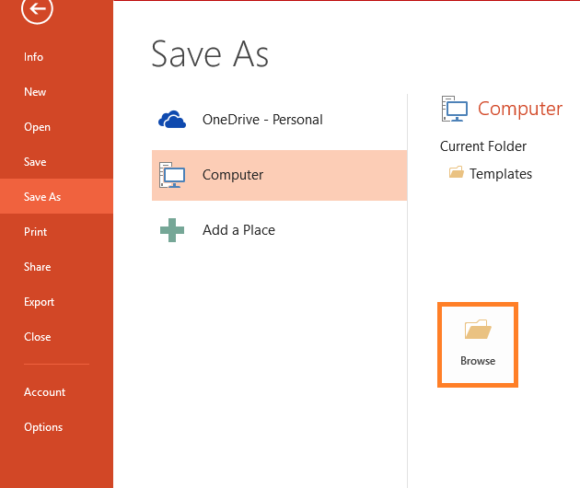 Choose PDF from the list of available file formats, and click Save after naming the file and choosing its location.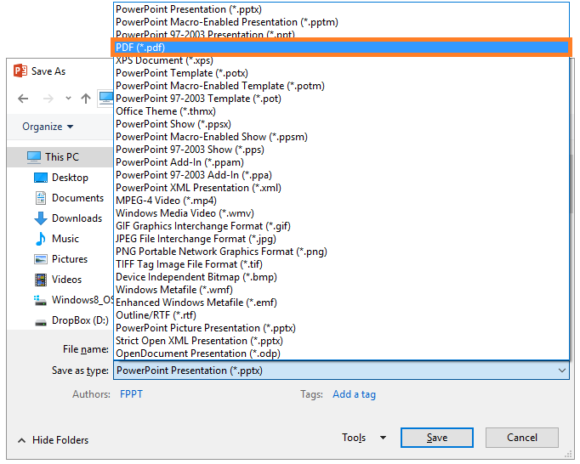 What If I Don't Have PowerPoint Installed?
If you don't have PowerPoint installed on your computer, then you can use the free PowerPoint viewer to convert PowerPoint files to PDF.
PDF viewer is a free program provided by Microsoft which enables anyone to view and print PowerPoint presentations. You can read about how to download and use PowerPoint viewer by clicking this link.
How To Use PowerPoint Viewer To Print A Presentation to PDF?
Once you have your presentation file open in PowerPoint viewer, all you need to do is use the Print command by using the Ctrl+P keyboard key combination.
Select Microsoft Print to PDF and click OK. Select the checkbox labeled High Quality to ensure good PowerPoint to PDF image quality.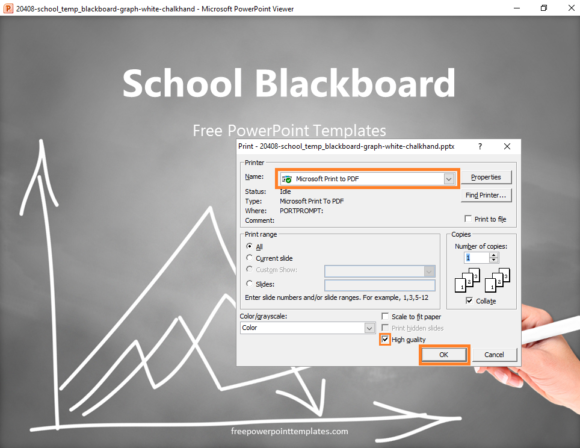 (Please click here to download the PowerPoint Template used in this example)
It should ask you where to save the file. Select a save location and filename. Press OK to save.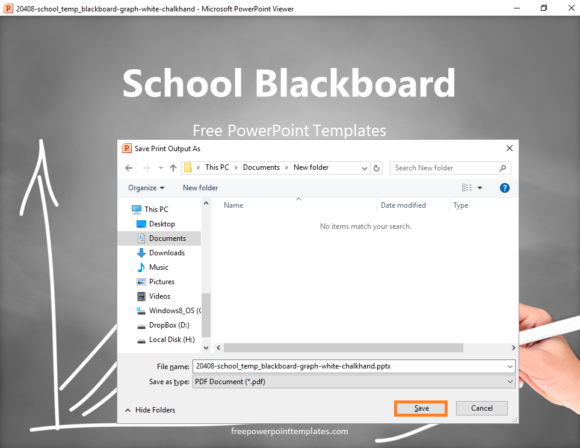 Microsoft Print to PDF Does Not Appear For Me, What Should I Do?
If Microsoft Print to PDF does not appear in the list of printers on your computer, then you can use Cute PDF Writer instead. Download and install it by clicking this link.
Now, open PowerPoint Viewer once again. Try to Print again. This time, you should be be able to see Cute PDF Writer in the list of printers. Select Cute PDF Writer as your printer and click OK
Don't forget to check High Quality to ensure good PowerPoint to PDF image quality.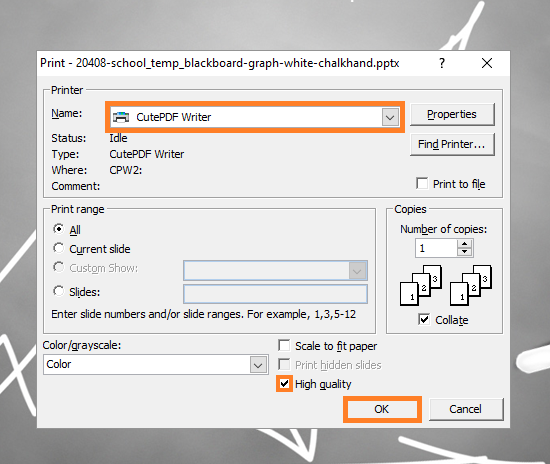 It should take a few seconds of processing time. It works faster if you click around the screen for some reason.. Just don't click inside the PowerPoint viewer.
A box should appear as shown below. Type a name for the file and make sure that PDF is chosen as the file type. Click Save to save it as PDF.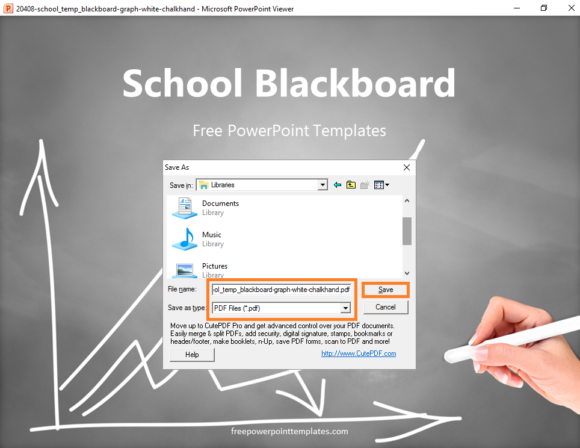 Cute PDF Writer might also ask you to install a plugin the first time you use it. You may need to install that plugin to print PDF files.
Image: [CC BY 3.0] via Wikimedia Commons