Comments act like sticky notes in a PowerPoint presentation. Adding them to a presentation slide has many advantages. You can use them for your own reference or to collaborate with other people. Applying comments in PowerPoint is pretty easy as you can see below.
What Do Comments Look Like in PowerPoint 2013 and PowerPoint 2016?
This is what comments look like in PowerPoint 2013 and PowerPoint 2016. Quite different from the way they looked in previous version of PowerPoint.
What Are The Advantages of Using Comments in PowerPoint Presentations?
They can be very useful for keeping personal notes on an edit in a presentation slide. They can be attached to an entire presentation slide or to a single word. Comments in a presentation slide also serve as a communication tool when the presentation is passed from one person to another.
You can read more about online collaborating when making PowerPoint presentations by clicking here.
How To Apply Comments In PowerPoint 2013 and PowerPoint 2016?
Simply open a presentation and navigate to the slide where you want the comment to appear. Click the REVIEW tab on the Ribbon Toolbar as shown, and then click New Comment to add a new comment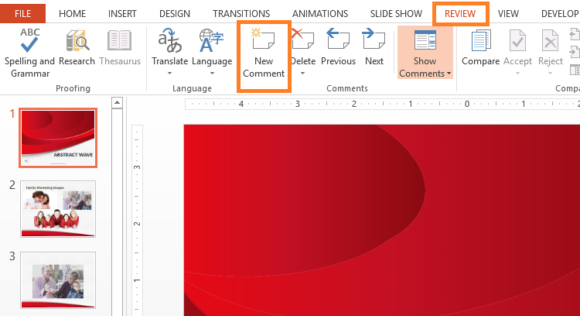 A comments pane should open on the right side. Now you're ready to write your comment. Once you've written your comment, click anywhere to save it.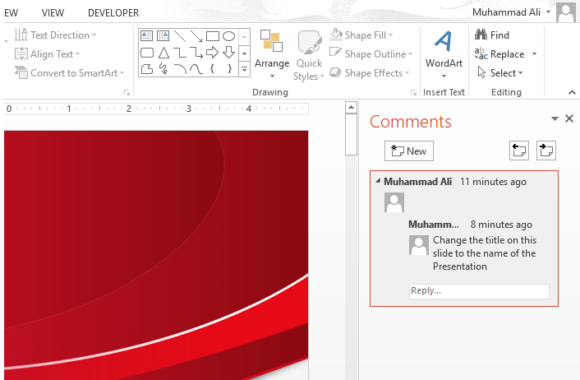 You will notice that a comment icon appears on the upper-left corner of the slide. This is the comment that you just added. You can move this icon wherever you want on the slide. Don't worry, it will not appear in Slide Show mode when you're presenting. Comments don't need to be removed before presenting.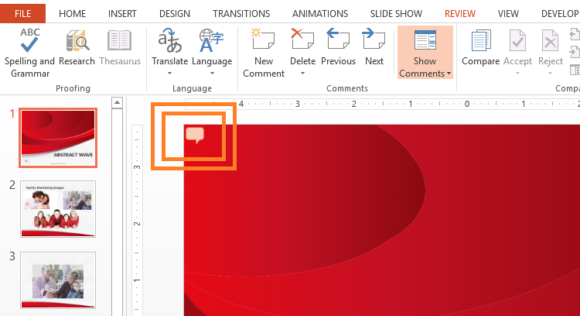 (Please click here to download the template used in this example)
You can edit any comments you've made by clicking its comment icon or by clicking Show Comments under the REVIEW tab. All comments on that slide should appear on the right side of the screen.
Most of the options related to comments are pretty self explanatory. So, you shouldn't have any trouble dealing with them. Good Luck with your presentation!