Getting Text right is very important. Because, Text is to a presentation as sound is to a video. Therefore, people expect it to be proper. Any mistake in Text can lead to an embarrassing presentation. Here, we will take a look at the basic text formatting tools and how to use them.
The Format Toolbar
In PowerPoint 2013, the Format toolbar only appears when you're editing text. Clicking on the FORMAT tab on the Ribbon reveals a few buttons for formatting text.

This toolbar and the ruler account for the majority of tools you'll ever need in PowerPoint.
Use Autofit For Copying Text Into PowerPoint
In PowerPoint 2013, Right-click a text box in PowerPoint and click Format Text Effects.. to see more options on the right hand side of the page. From these options, go to TEXT OPTIONS and then Text box.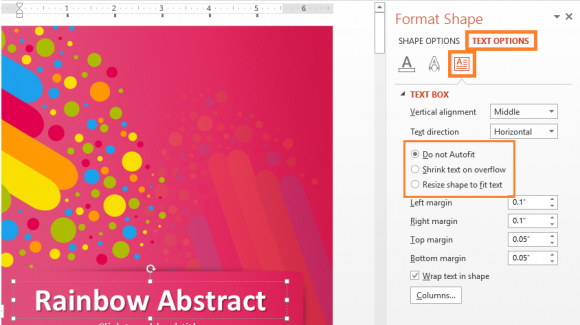 (Please click here to download the Template used in this example)
Do Not Autofit: This will not change text size and allows the text to flow out of the box.
Shrink Text on Overflow: If there is too much text, this setting will make the text smaller.
Resize shape to fit text: This will make the shape bigger or smaller depending on the amount of text in the text box.
Change Distance Between Lines Using Paragraph Spacing 
You can find these settings by Right-clicking text in a box and then clicking Paragraph.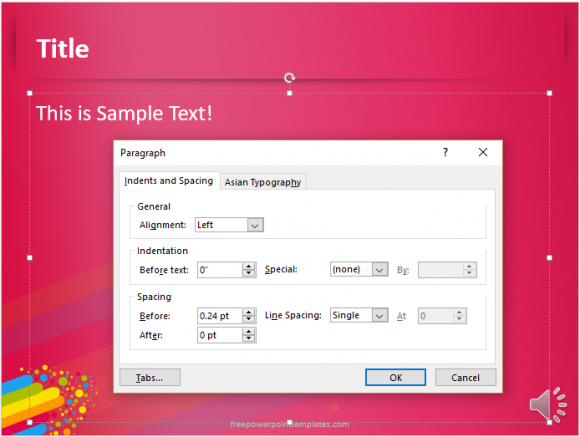 These settings are used to adjust how close paragraphs and lines get to each other. You can change these settings in the master slide so that they look the same in all slides of your presentation.
Making Sub Levels Using Level Formatting Buttons
When making lists, sometimes you have to show how one item contains other smaller items. This is usually done using the TAB key on the keyword to insert space. e.g.
1. MS Office
a) MS PowerPoint
b) MS Excel
2. Keynote
3. Prezi
This works for the most part, but its not as consistent as using the levels feature.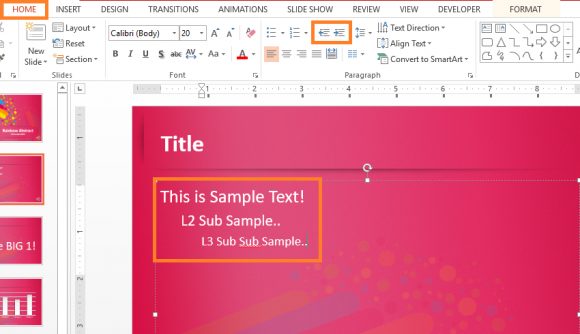 Highlight the text, and under the HOME tab, click one of these buttons to change the level of text.
If you liked this article then please like, comment, and share! We try to write one blog per day to help you guys with your presentations. Good Luck, and Have A Great Day 🙂