Once you have customized an animation effect in Microsoft PowerPoint 2013, you can actually re-use it as many times as you want. Re-apply an animation effect to any other object through the Animation Painter button. It is basically a tool for copying and pasting animation effects. Let us get started on how to use it.
Where is the Animation Painter Button Located?
The Animation Painter button is located in the Advanced Animation group. Access it by clicking the Animations tab on the PowerPoint Ribbon. Now, click the Animation Painter button in the Advanced Animation group.

Copy Animation Effects
Click the object from which to copy animation effects. Click the Animations Painter button. Now take the mouse pointer to the object on which you wish to apply animation effects. Click on the object. This copies the animation(s) to the selected object.
Note: Click the Animation Painter button once to copy the formatting. Click it more than once to copy the animation effects multiple times.
Note: If, by mistake, you applied the animation effects multiple times, deactivate them by pressing the <Esc> key.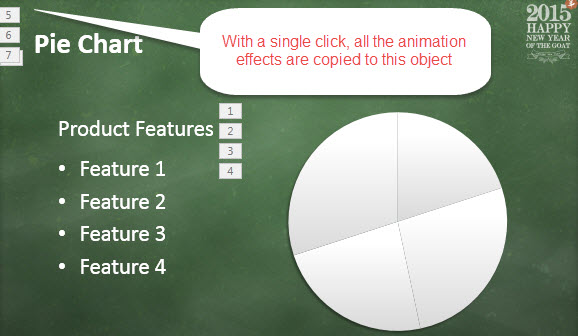 The tutorial on How To Copy Animation Effects in PowerPoint 2013 assumes you know how to animate a PowerPoint 2013 presentation. You may learn PowerPoint 2013 basics by going through other tutorials as well.
The above tutorial was made using the free Happy New Year Template for Microsoft PowerPoint 2010, for those who love the Chinese Zodiac.