Dropbox is not just an online storage tool, but it also allows public folders where a team of people can share and access files. Files can be shared publicly with those who have the link. It supports incremental backups to the cloud – only backing up files that are modified or changed, thereby taking less time. Backups are real-time and continuous, so you don't have to wait before the backup eventually starts. Free accounts start with 2GB of storage.
File History
You may restore an earlier version of a free PowerPoint presentation, or an office brochure, as Dropbox supports unlimited file versions. This feature is called file archiving, and it saves you from the fear of ruining a digital picture or a document. The Packrat add-on supports unlimited versions, while the free Dropbox lets you restore up to 30 days earlier version of a file.

Automatic Sync
Dropbox (online business tool for data backup) has apps for iPhone and Android, in addition to PC and Mac. Social media services, such as Facebook have integrated with Dropbox, which makes it quite versatile. The sync feature makes it possible to mirror the same version of a file to multiple devices, such as PC and Android. This makes it possible to access a PowerPoint presentation simultaneously on your office computer and while on your way to a business trip. There is no need to transfer work files across computers or to exchange data using USB drives.
No Drive Image
You cannot create an image file with dropbox and save it in a DVD or a Blu-ray. A disc image is an exact copy of your data in the form of a single file, which makes it useful in the case of a harddisk failure or a system crash. Dropbox (online business tool for data backup), on the other hand allows you to restore individual files or folders.
Packages
Dropbox comes with three plans: basic, pro, and business. The basic offers 2GB of space free of charge. The pro version has a monthly subscription and offers 100GB, 200GB, and 500GB of storage. The business plan allows up to 5 users to sign into the same account and offers 1TB of space. Subscription fee is paid on a monthly or yearly basis.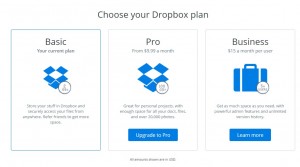 Technical Support
There is lack of customer support and there is no live chat or 24/7 support feature, such as a customer hotline. Customers can email their queries and generate a ticket for further assistance.
Overall score 8.3/ 10
Check out reviews of business tools, such as those related to data backup and productivity. Download the latest release of Dropbox for your desktop or mobile device.