Free Academic Course Template helps teachers explain the course outline to the class. Begin the semester by adding a touch of professionalism, as you give an introduction to the course. This free template for PowerPoint is ideal for Engineering, Social Sciences, and Life Sciences, in addition to other fields of study. The title slide has space to write course title, along with teacher name and the course number or course code.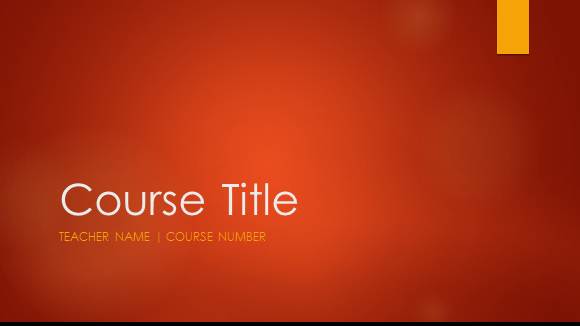 Use SmartArt to describe assessment criteria. Divide the course into projects, quizzes, assignments, and exams. Describe the weightage of assignments and quizzes. There is a circular diagram on the right hand of the slide to give a pictorial representation of assessment criteria. You can make use of other SmartArt to make a more accurate description using Matrices and graphs. Access SmartArt by clicking the "Insert" button on Quick access toolbar and clicking SmartArt. Similar educational themes include free Educational Chalkboard design.
Give a detailed description of topics covered in each week of the semester. Do outline the objective or purpose of each lecture, which allows students to get an abstract idea of what is being covered. There is a separate column to mention any project or assignment due by the end of a lecture. If you have more than one lectures in the same week, you can edit the Week column and modify this free educational theme.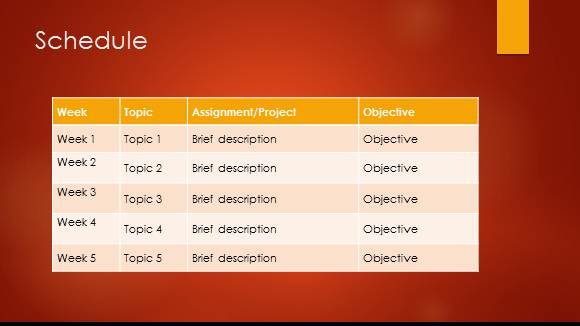 Expand the creative capacity of your students and provide them useful online resources to get an intro of the coursework. Students will look for lectures on the web anyway, so it is better to share some useful links with them. Provide links to official college website, online library, in addition to social networks where they can find like minded individuals.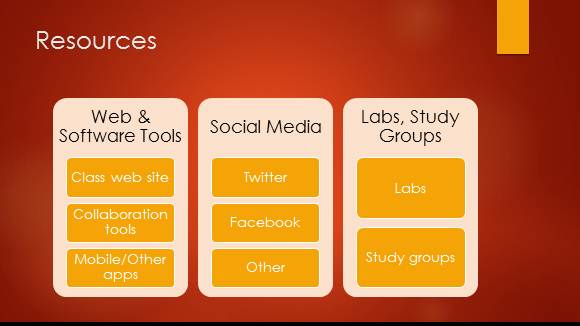 Download free Academic Course template to run on Microsoft PowerPoint or start working on it online with Office Online. Deliver an authentic presentation and make a positive impression on your class.