Get an A+ in Electronics with free Electronics Theme for PowerPoint Online. Available for free, download it by clicking the link at the bottom of this article. The link directs you to the official PowerPoint Online website, where you can start working on it right away. This is one of many free academic backgrounds, handpicked from Microsoft's official collection. Although a standalone theme, it can be coupled with other templates, containing SmartArt graphics and charts.
The PCB (Printed Circuit Board) design is popular among presenters of electronics, Software Engineering, and Computer Engineering. Use this to deliver a presentation on topics related to the basics of electronics, bread-boarding circuits, and microelectronics. High School students, college students, Engineers, and technicians can benefit from this free educational PowerPoint theme. It runs on the cloud, and it can also be downloaded on to your computer. It supports the latest and previous releases of PowerPoint and OpenOffice Impress.
An ideal theme for presentations on electronics and communication, it has a design frame made out of a circuit board. Special attention is paid to keep the background color and font style relevant to the content. The square font style has different colors for the title placeholder as well as the subtitle placeholder. Likewise, the color is a pattern or texture fill. If you want to change the background color / texture, read along.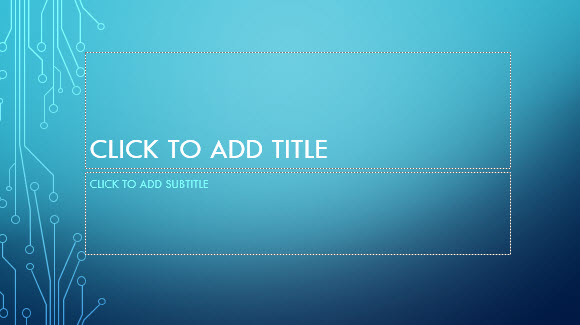 Modify the Color Pattern / Texture
Make the presentation darker in appearance, change its transparency, or insert a picture into it by following a simple procedure. Right Click on an empty space anywhere on the slide (but not inside the placeholders) and click Format Background. The Format Background dialog box appears. Here you have the option to choose from Gradient Fill, Solid background and Texture. You may want to look at detailed instructions on how to change background in PowerPoint 2013.