Once you have learnt how to create a blank presentation in PowerPoint 2011, let us move onto the user interface. Most users open up a blank presentation and start adding a title to it, however, they should familiarize themselves with the basic user elements. An introduction to user interface PowerPoint 2011 for Mac helps makes understanding advanced tutorials easier.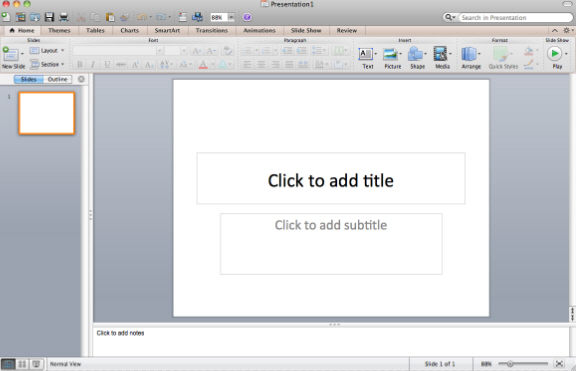 Menu Bar
The menu bar includes the area at the top of the screen. It includes the PowerPoint logo, in addition to all the menus, such as File, Edit, Insert, and Format.
Standard toolbar
The standard toolbar displays the title of your presentation. In addition to this, it includes buttons to accomplish common tasks, such as saving, printing, zooming, and help.
Ribbon
The ribbon is present just over the work area or presentation. It contains all the features required to make a free theme for PowerPoint. Features are organized in the form of logical groups. The logical groups include: Home, themes, tables, SmartArt, and Animations. You can format a presentation's content or give it a unique design with PowerPoint's features.
Thumbnails in left pane
Navigate your way through the slides and find the one you want with the help of slider or arrow keys. The View menu includes the option to display or hide thumbnails. In case the left pane does not appear, place a check box next to View – > Normal.
Slide
Slides are your work area. A blank presentation consists of a single slide with a white background. In case a slide does not appear, place a check box next to View -> Normal.
Placeholders
Placeholders consist of per-formatted containers to add content. The choice of placeholder depends upon slide formatting, which may vary for a free business PPT theme, or an educational presentation.
Notes pane
The Notes pane is an area to insert references or presentation notes. PowerPoint has a feature called Presenter View, that allows only the presenter to see notes, while the audience sees a notes-free presentation. In order to perform this, connect your laptop to a projector (secondary display).
Perfecting the use of elements described in the introduction to User Interface PowerPoint 2011 for Mac helps get an understanding of the basics. Check out the next tutorial to learn more techniques for free.