PowerPoint allows users to create and design presentation slides. In most versions of PowerPoint, users start with a blank presentation, or a previously saved one. This 'how to' article deals specifically with the interface of PowerPoint 2011 Mac, so the steps may vary slightly for other Office versions. After making yourself familiar with PowerPoint interface through tutorials, such as how to create new blank presentation in PowerPoint 2011 for Mac and an introduction to user interface, you can prepare a presentation with ready-made themes, such as free Project design. The learning curve for basic PowerPoint tutorials available here is about 30 minutes.
Launch Microsoft PowerPoint
Open Microsoft Office and select Microsoft PowerPoint from the Dock. Open a blank presentation from 'PowerPoint Presentation Gallery'.

Select Background Color
Click White to open a blank presentation with a white colored background. Click 'Don't Show' to set 'blank presentation' as the default option on starting PowerPoint. Click 'Show' to list all options, every time you start PowerPoint.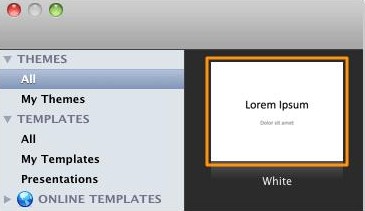 Customize the Blank Presentation
Excellent! A blank presentation labeled 'Presentation 1' appears. Users can add a title, a sub title, along with a background picture to the title slide. This completes the step by step guide on how to create new blank presentation in PowerPoint 2011 for Mac. To learn the next quick and easy PowerPoint tip keep visiting this website.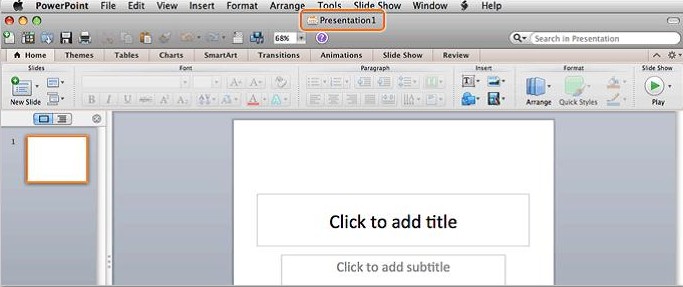 Extra Tips
PowerPoint allows you to create a new blank presentation at any time by clicking 'New Presentation' from file menu. Get access to PowerPoint Presentation Gallery, by clicking 'New' from file menu
Check out free business templates and educational presentations with ready-made layout and illustrations. These are available at Office Online, which allows you to open PowerPoint on the internet for free. Users should have a valid Microsoft Outlook email or Windows Live Hotmail account to work on these designs.