PowerPoint 2016 has a seamless interface designed specifically for Mac. Microsoft has kept the cool features of the 2011 release while adding new ones, such as the Presenter View. While the basic layout is similar to its predecessor, web integration, cloud storage, and search capability are easily accessible. Let us familiarize ourself with the PowerPoint 2016 Basic Layout. Now, you can checkout the interface yourself by simply downloading the preview release of PowerPoint 2016, in addition to free PPT backgrounds.
First Impressions
Start the PowerPoint application by opening a presentation file. You will notice a quick load time. At the top of the screen the Quick Access Toolbar is visible. It provides access to the most popular commands, such as Save, Open, Undo, and Redo. This toolbar is customizable, meaning that it can be made to display the commands of your choice. To add a command to the Quick Access toolbar, click the appropriate tab on PowerPoint Ribbon, then Right Click the specific command, and select Add to Quick Access Toolbar in the contextual menu.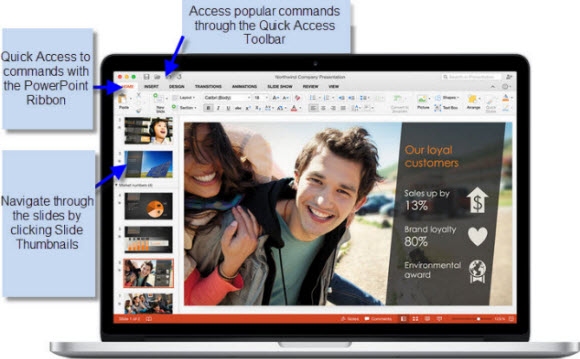 While composing the presentation, the user has the option to search its contents. This also comes useful when looking for a word or phrase in someone else's presentation. In addition, the presenter may promptly take feedback from teammates by adding their comments inside the notes pane. The notes pane is located just below the slides pane. The new release emphasizes the need of presenter notes by including them in the new Presenter View. The Presenter View not only displays the current slide on the presenter's computer, but also gives a heads up of the slides to come.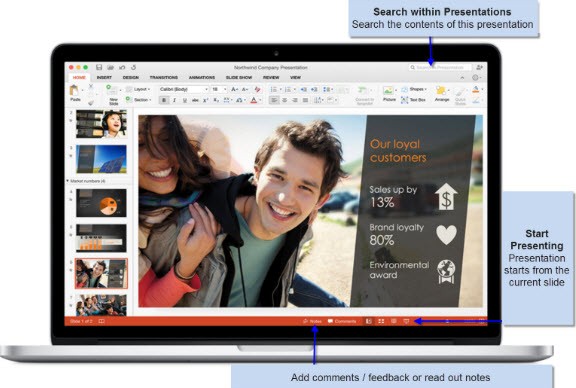 Get a hands-on look at PowerPoint 2016's Basic Layout by Downloading PPT 2016 for Mac (Preview version). Get accustomed to the screen layout and test the features on a PowerPoint free theme. The application is compatible with OS X Yosemite. Also, make sure there is at least 10 GB of dedicated free space in your hard disk.