Present personal as well as professional milestones with Circular Timeline Template for PowerPoint 2013. This is a simplistic, standalone theme, consisting of small and large circles. The larger circles represent major milestones along a company's life-cycle. Although a stand along design, customization options are endless with Microsoft PowerPoint built-in themes. Students working on a full length presentation have the option to combine a free Project template or free Chalkboard background with this 16:9 design.
Download Circular Timeline Template for PowerPoint 2013
On first impression, this is a simplistic timeline slide. Each event is represented by a circle. Click the text corresponding a circle to edit it. In case the background appears too simple, or the circles appear dull, just change the theme.
How To Change Timeline Theme
To do this, just click anywhere on the timeline SmartArt. Now navigate to the Format tab under Drawing Tools on the PowerPoint Ribbon. Click the Design tab.

The complete list of themes is available in the Themes group. Click the more button to list possible themes. Hover the mouse over each theme to see its preview. Each theme brings a drastic change on the overall look of the timeline. By applying the theme, you have only applied a new color scheme. The design of the timeline is still the same. Check out how to change the timeline design below.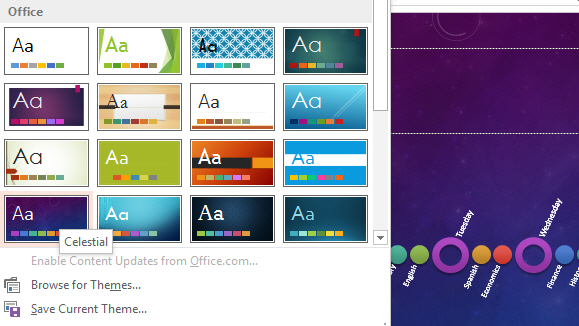 How To Choose a Different Timeline
Simply click the Design tab under SmartArt Tools on the PowerPoint Ribbon. The Layouts group contains available timeline designs.