Free Birthday Invitation template has a blue ray strip on a golden background. Invite friends to a surprise birthday party through email or by taking a print of this fold-able card. Print it on a legal sized paper. It has a bright theme and plenty of space to write the name of the person whose birthday is to be celebrated. Mention the time and venue for the party, otherwise people may mistake it for Zack's 21'st birthday at Stewart's House.
Make the birthday memorable with free Family pictures theme that lets you create an interactive photo album with fun frames and lots of captions. Have a grand celebration and remember everyone who came and became a part of your happiness with this photo album. These PowerPoint template along with other Lifestyle themes, such as Fitness Routine slides are free to view and can be saved to your computer.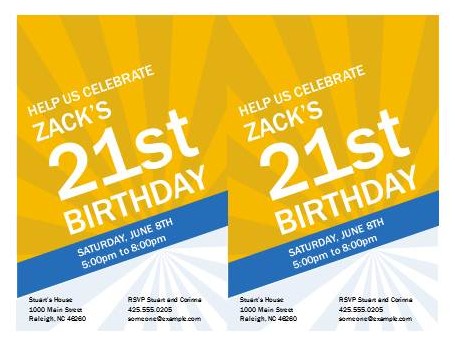 The golden color has strips in between, much like the spotlights at a grand opening. The color combination of golden and blue ray has a positive look to it, and text is formatted in a presentable manner. Send this invitation to family, friends, and colleagues to bring as many people to the party as possible, and to make it an experience to remember with free PPT backgrounds.
View and Download Birthday Invitation Template for Microsoft PowerPoint 2013, or Office Online.