Sometimes, the difference between an A and a D is how you manage yourself. Then there are the little details we forget, like assignments or quizzes, which have a significant weightage in the overall assessment. Get your school life organized with a bold class schedule with half hour intervals. Free Class Schedule template for PowerPoint Online acts as a reminder, while Academic Course slides contain course outline and study resources.
Manage Class or Work Schedule
The master slide has the schedule along with a title or heading. This is not strictly for academic use, as you may change the title to "work schedule" or "fitness routine". PowerPoint Online does not automatically change the date for you, so you will have to manually change it from Sunday, October 20 to the current date. Repeat the process for all entries of the column.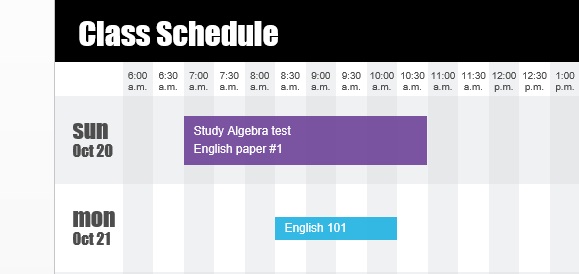 Once the formatting is complete, start adding items to the layout. Insert a shape, such as a square or rectangular box. If you are in a hurry, just use the rectangular boxes that come with the design. This free PowerPoint theme is not an Excel theme, so you cannot click a tab and insert text and will have to resort to boxes.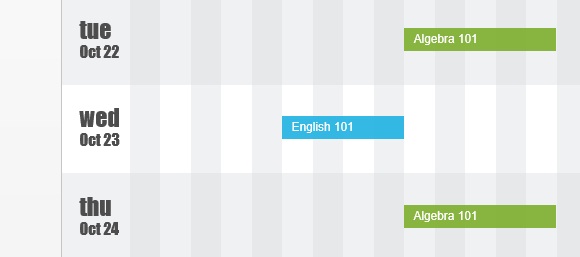 Add Comments and Customize
To add a remark or comment to any of the lecture boxes, navigate to the View option located on the quick access toolbar and click "Show Comments". You can also enter notes at the bottom of the template, which is a quicker way, than to add separate comments. Comments and notes help set reminders and to communicate to others who you may share the template with you. There are separate resources to help prepare a final year project, such as free Final Project theme.

You can customize by setting different colors for boxes, which belong to different categories, such as blue for Physics, Green for Social Sciences, and Red for Chemistry. You even have the option to change the background to a similar one, or browse other free educational backgrounds.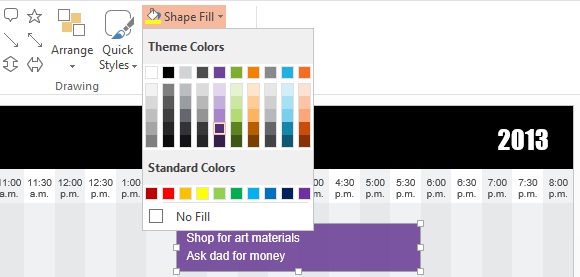 Free Class Schedule Template for PowerPoint Online is internet ready for those who have a valid Microsoft email id.