The default number of slides in a blank presentation is one. The user can insert a new slide in a number of different quick & easy ways by taking a look at, How to insert Slides in PowerPoint 2011 for Mac. You may want to learn how to open a new blank presentation or get familiar with the user interface of PowerPoint 2011.
This tutorial explains ways to insert a new slide.
Insert Slide on the Home Tab
By default, the Home tab is selected when you start a blank presentation. Make sure you have selected the Home tab. Under slides, click 'New Slide'. Let us look at other methods to accomplish this.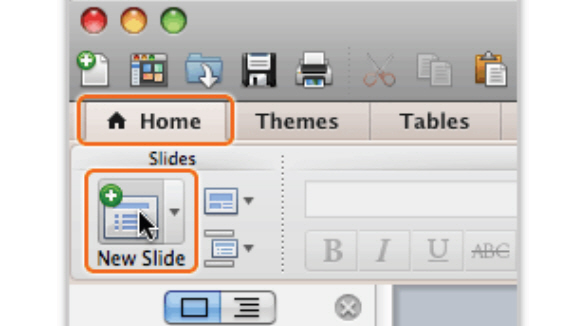 Alternatively, on the Home tab, under "Slides", click "Insert" and then click "New Slide."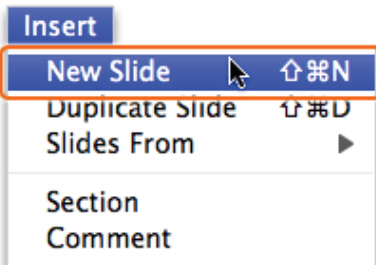 Insert Slide by Clicking the Arrow Besides New Slide
Rather than clicking 'New Slide', you have the option to click the downward facing arrow next to it. Upon clicking the arrow, you will see a drop down menu titled, "Office Theme." Click 'Content and Caption' to insert a slide into the presentation.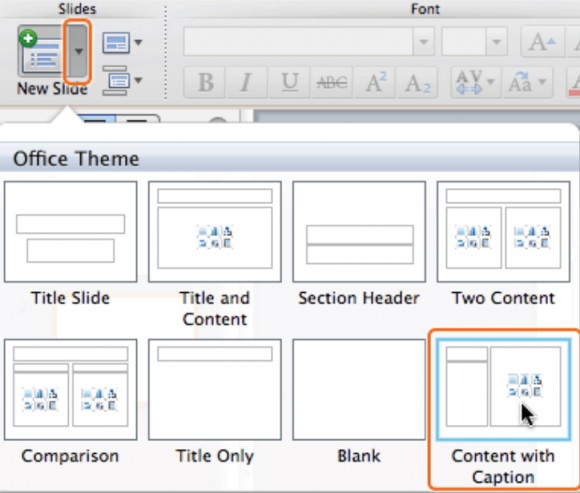 New Slides Appear in Left Pane
The slides inserted into the presentation appear in the left pane. You can switch between the "Slides" view and "Outline" view, available in the Left pane.

Tips & Tricks
Each new slide is inserted right after the current slide or the highlighted slide. In order to delete a slide, press the Delete button. If you want to change the order of slides, drag and drop the selected slide where you want it to appear. Users also have the option to import slides from another presentation by clicking "Insert" under the Home tab, followed by "Settings From," and "Other Presentation."
Now that you have learnt How to Insert Slides in PowerPoint 2011 for Mac, Check out ready made presentation templates for free and open the one of your choice in PowerPoint Online.