Share a matrimonial occasion with family members through this sweet flowery template. Purple Flowers template for PowerPoint Online has a light and bright look with its blue background and a purple flower pattern at the bottom of the master slide. Inside you will find formal slides with SmartArt graphic and a bar chart. There are a number of empty slides available for adding additional information. In case you are looking for an informal theme for a family occasion, do check out the family picture album theme.
The Perfect Theme For a Wedding
Royal purple flowers are found usually at matrimonial events, such as a wedding or an engagement ceremony. Choose from a variety of flowers, such as passionate plums and ladylike lavender. You can insert ClipArt or picture illustration of a flower in this theme too. Send a message full of pride and passion with this nature inspired theme.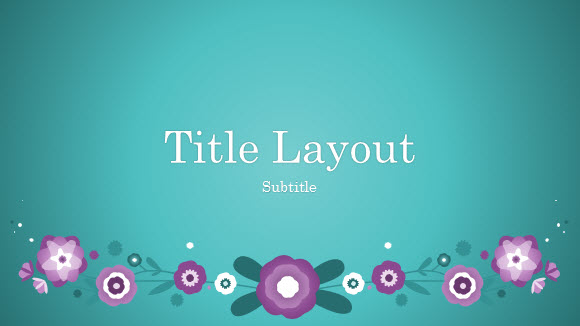 Review Purple Flowers Growth for Your Garden
Purple flowers send a bold statement across the audience. Students of agricultural sciences and florists can present their findings on the fauna and flora of a region through this free theme for PowerPoint Online. You can also monitor the growth of flower plants in your garden by assigning a unique color to each and comparing them on a bar chart. The choice of color distinguishes each entry on the bar chart and makes it simpler for the audience to understand what is going on.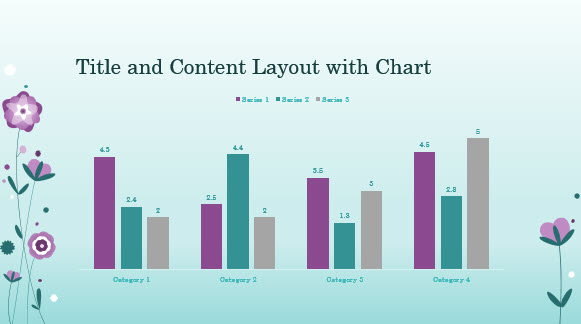 Customize the Bar Chart
To assign a unique color to a particular bar, Right Click on it. The Standard Colors toolbar appears. To change the color, click Fill, and choose the appropriate color from the drop down menu. To change the Outline or border of a bar, Click Outline, and choose the outline color from the drop-down menu.