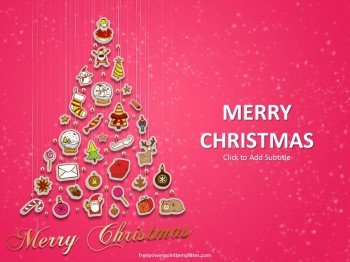 Free Christmas Tree PowerPoint Template lets you celebrate the holidays with overseas friends and family. The background in the master slide has a pink color with white dots for snow. Christmas decorations and presents are arranged in the shape of a tree. The title text reads, "Merry Christmas". Use this free template for PowerPoint 2013 and PowerPoint 2010 PC/Mac to wish Merry Christmas to everyone you know. Write down a special note, followed by the name of the person to whom the greeting presentation is sent.
Download free Christmas Tree PowerPoint Template and show everyone how to make Christmas decorations. The decorations may vary from Christmas ornaments to kissing balls and red wooden wagons. Make a tutorial on how to make Christmas stockings with sweaters and wall decorations.
This free holiday theme has a business side as well. The pie chart and bar chart are helpful in sorting out budget plans for the holiday season. Make a chart of Christmas tree prices and varieties, such as artificial trees. The SmartArt graphic is useful in determining product sales this holiday season.
January 1, 2015